Carina Stumpf Community Profile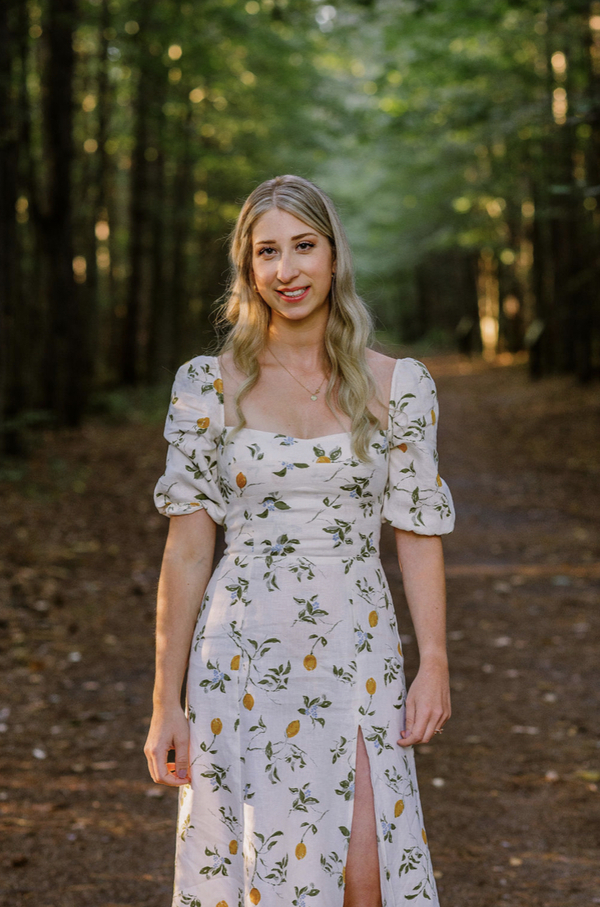 Carina Stumpf came to CP-NET as a participant in the MyStory Project. She found the project after doing some research. As a young adult living with hemiplegic CP, Carina sought opportunities to get more involved in the CP community.

From there, she was invited and became a CP-NET Stakeholder Committee member. This opportunity has allowed her to learn and discover where her lived and professional experiences fit into the mix. "I'm still trying to find my feet in the realm of the stakeholder with lived experience." She admits to being a little afraid of overgeneralizing CP and giving the impression that her experience is everyone's experience. Nevertheless, she says she's learning a lot from fellow members with CP and working on growing her confidence.
Carina grew up in a small town in Manitoba and was diagnosed with CP a bit later than her peers. "There wasn't a lot of support for CP at that time," Carina explained. "My mom always knew that there was something. But getting that diagnosis was difficult because not many doctors were specialized enough."

To get the care and treatments she needed, such as Botulinum Toxin A, Carina would make the trip to Shriners Hospital in Montreal a couple of times a year with one of her parents. Although travelling for care might not have been convenient, Carina says the doctors and clinicians at Shriners were fantastic. And the travel, hotel and time in the city always made the whole experience more exciting. "They always made us feel super special," says Carina. "And I got one-on-one time with one of my parents." A little one-on-one time can be nice as the middle of three children.

While she did meet other kids with CP at Shriners, at home, Carina says she was the only one of her peers with a disability. "I was the only person with CP the doctors had ever met." As such, she says she never had the opportunity to form close connections with others living with CP.

Her parents focused on what she could do rather than what she couldn't. And while a lot of positive things came from this mindset, it also meant that she had a more challenging time coming to terms with her experience as a person living with CP.

"I think growing up, if I had had someone tell me, 'You might not go through life doing things the way everyone else does them, but you're going to find your way there,' that would have been like really instrumental."

When Carina was in Grade 7, she moved to Ottawa with her family. It was a big change but nice to be a part of a larger community, closer to services and support.

As she transitioned from her teens to her 20s, it became important to Carina to accept this part of herself. "It's not all of who I am. But I also want to recognize that it's an important piece of who I am." She realized she could do pretty much everything; though she might do it differently. And that's okay.

Carina always knew that she wanted to go to university and work in the health field, perhaps to connect with the disability community and make a difference. From a young age, she wanted to be a physical therapist. However, as she got older and began planning for post-secondary, Carina realized that it might not be the best route for her because if she struggled to do the exercises herself, she couldn't ask her clients to do them. So, after some consultation and research, she studied population health risk and assessment at the University of Ottawa. Although she didn't know exactly where this would lead her career-wise, it connected to the health world and was intriguing.

This was also a challenging time because Carina was transitioning to a new phase of life, personally and medically. At 19, she transitioned from the support of Shriners to the adult health care system, where support is almost non-existent, especially for those with mild to moderate CP. "My CP isn't like gone. It's still here." And while Carina doesn't require special care, aging with CP presents changes––such as chronic pain––and questions that need answers. "If anything, as you get older, there's a lot more difficulties that come into play." But finding the proper health care and understanding is very difficult and often leads to negative experiences.

She continued at the University of Ottawa, pursuing a master's in interdisciplinary health sciences with a thesis focused on the challenges physicians experience while providing end-of-life care. After completing her master's, Carina found a job with the Public Health Agency of Canada, working in dementia. This was a special first job because it was an opportunity to embrace her disability. "I was able to apply much of what I knew in the disability world and the importance of lived experience as I engaged with people living with dementia."

After several years in Public Health, Carina recently began working for the Treasury Board Secretariat of Canada. This move is an opportunity to gain experience in a central government agency and develop policy analyst skills. And she was pleasantly surprised that it still connects to disability because they are working on a new digital accessibility standard. "Moving to the Treasury Board has made me realize I can impact a lot of different files; it doesn't have to be solely focused on health to make a mark."

Looking ahead to her next career move, Carina thinks she'll return to health policy eventually. She is particularly drawn to the intersectionality and social determinants of health and says it's something she will always hold near and dear. "Look at an issue and see the different layers of how different people are affected. It's absolutely fascinating."

The CP-NET Stakeholder Advisory Committee brings it all together for Carina in an impactful way: the community, lived CP experience, health care and policy, and opportunities to motivate meaningful change. "I was like, 'Oh, my gosh, these are my people! Everything [other members living with CP say] resonates with me. And that's something I haven't really seen that much in my life."